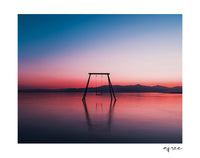 'Free Play' (2018) - Limited Edition 11x14" Screenprint (**/50) on Moab Entrada Rag Natural 300 with Deckled Edges. Hand signature on the front / Title & Date on the verso.
A series shot at the Salton Sea consisting of a luxurious beach town left to decay. The diminishing world we live in with so many problems around us. We don't take a second to see the place we once built disappearing in front of our own eyes. 90% of California lives in poverty, and another hand full homeless. We have so much land and resources to stop these problems but the power chooses not too. Our mind is free to play but not the space around us.

Shot of Canon 1D-X Mark II.